7 Mindsets to increase your success rate in international business.
Our new book, now available on  

It applies and operationalizes Hofstede's 6D model for international negotiation.
It provides a very practical guide for anyone active in international business development & sales as well as anyone managing international teams.
A review on Amazon:
The best book I have ever read on the cultural aspects of negotiation and even the best book I have read on cultural aspects of doing business around the world full stop.
By Alexis Kyprianou, former VP of Strategy and M&A at Vivendi and former Group Head of M&A at Danone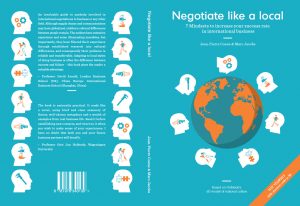 An invaluable guide to anybody involved in international negotiations in business or any other field.  Although supply chains and communications may have globalized, stubborn cultural differences between people remain.  The authors have extensive experience and some illuminating anecdotes, but, importantly, they have filtered their experience through established research into cultural differences, and consequently, their guidance is reliable and transferable.  Adapting to local styles of doing business is often the difference between success and failure – this book gives the reader a valuable advantage.
Professor David Arnold, London Business School (UK), China Europe International Business School (China).
"Nothing is more practical than a good theory'' (Kurt Lewin, 1890-1947). That may be so, but even a good theory may need some interpretation. This is precisely what Jean-Pierre Coene and Marc Jacobs have done. These two authors had long careers in business, came up against many problems, found that theory could help them, and have now put their learning into a comprehensive format. If you are an experienced salesperson, then you know that, across borders, amazing and often frustrating surprises happen. This book will allow you to make sense of your experiences, and to reach better deals in the future. It uses, and interprets, the 6-dimensional model of national cultures developed by Geert Hofstede and others. That means it is based on solid ground, not hot air.
The book is eminently practical. It reads like a novel, using brief and clear summary of theory, well-chosen metaphors and a wealth of examples from real business life. Read it before establishing new contacts, and return to it when you wish to make sense of your experiences. I have no doubt that both you and your future business partners will benefit.
Professor Gert Jan Hofstede, University of Wageningen